Generational Planning Guide
How well-equipped is the next generation in navigating your business through the challenges of the coming decades?
Will your family business thrive or even survive in the next decade?
Is the "next generation" of leaders equipped to effectively navigate your business through the challenges of the coming decades?
What actions are you taking today to ensure the right kind of leadership, company culture, team engagement, performance standards, technology systems, future products, market advantage as well as financial stability and investment strategy?
These are BIG questions and deserve comprehensive attention not just an obligatory nod or checking of the box! This report will help you to at least begin the process of "gap analysis" to determine which of the above aspects are most critical. It will also dictate how you can get started in defining the outcomes you seek, identifying the resources required and committing to a plan of action to start closing the gap on securing a promising future for generations to come.
In the free Generational Planning Guide you will learn:
The top challenges for "closely-held" businesses and how to deal with them
How to recognize and address family business dysfunctions
The importance of proper conflict resolution with tips for doing so
Succession strategies to help ensure that your business is here for generations to come
Methods to engage your team and get them excited about the future of your business
How to leverage a board of advisors to help maintain continuity through multiple generations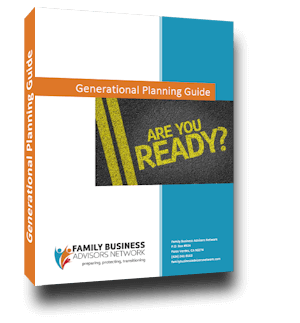 Download the Guide Now!
Enter your name and e-mail address here to download the Generational Planning Guide now!
You will receive an e-mail with a link to download the guide.